The finer details of how to tie a tie
As the old saying goes, there is more than one way to skin a cat. Similarly, there are many ways to tie a tie.
According to Stockholm-based mathematician Mikael Vejdemo-Johansson, 177,147, to be exact.
While that is a statistical outcome that was concluded by a team of mathematicians that exhausted all possibilities to land on that intimidating number, in this blog post, we've whittled it down to just a few basic methods, with advice aimed squarely at the professional-minded fashionista.
Read on while we outline the most widely used and basic methods that are applied today, to help you brush up on the proper etiquette, to learn how to style a tie for when it comes to presenting yourself appropriately.
Four-in-hand necktie
One of the most traditional methods that most of us are familiar with, this method is the staple choice for conservative images that are playing it professional but not going too far in terms of being fashionable.
Here is a step-by-step description for getting the tie knots right, explained in pictures…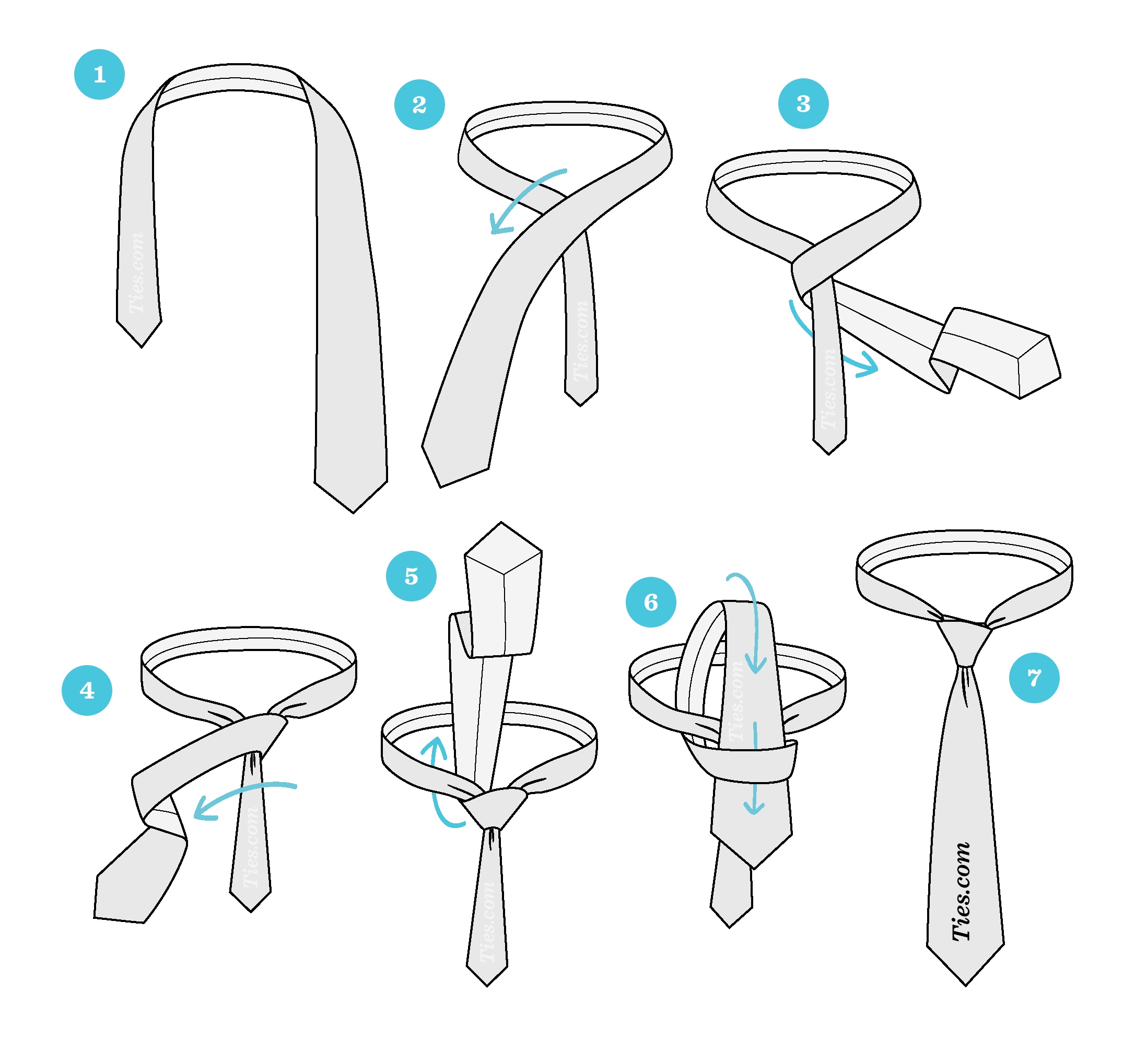 Photo credit: ties.com
In being a standard choice, a tie using the four-in-hand necktie method can be worn in a number of widths, and there is no specific choice for colors, patterns or even materials to use, giving you an endless number of options to work with.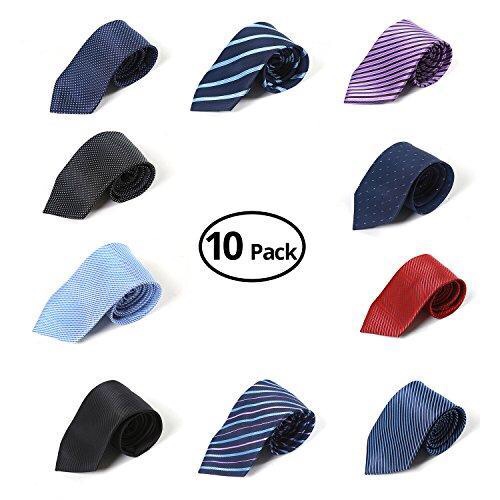 Ties caught your eye? Click here for this 10 variety pack of neckties, available from Beirut Shopping.
Seven-fold necktie
A close derivative of the four-in-hand necktie, the seven fold necktie is typically composed of silk that is, as its name suggests, folded seven times. A tie using this method tends to not have a lining, but in being composed of thick material, is very easy to tie a knot with.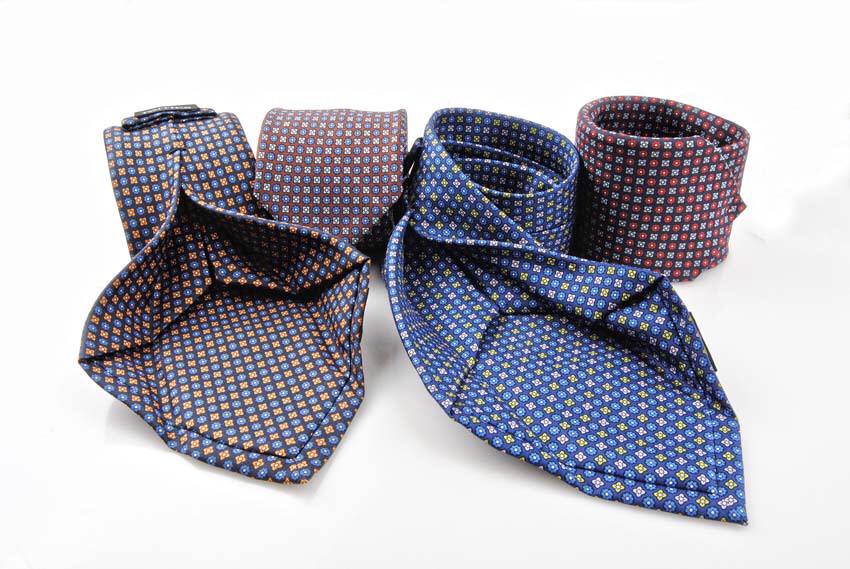 Photo credit: DM ties
A seven fold necktie is made out of a square yard of silk, and owing to the materials that it is composed of, can be on the expensive side, making it ideal for those rare, once-in-a-lifetime occasions.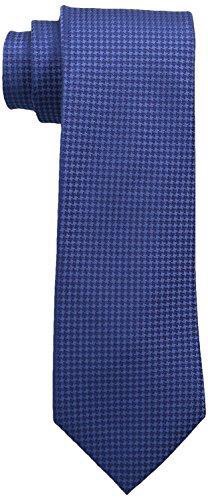 Tie caught your eye? Click here to purchase this beautiful albeit minimalist specimen of ties from Calvin Klein, also available from Beirut Shopping.
Skinny necktie
Another close cousin of the four-in-hand tie, the skinny necktie echoes slightly outdated 60s but still hugely fashionable sentiments, bringing on vivid images of the Beatles on stage with their mop tops. Classical and vintage in one hit.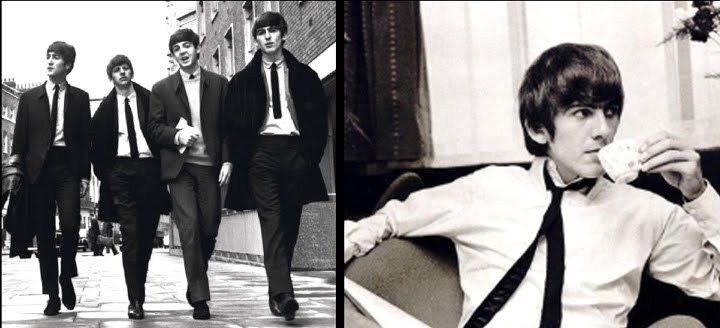 While you could get away with wearing a skinny tie to work, it is borderline pushing the limit, so it depends on what kind of professional environment you're in, really.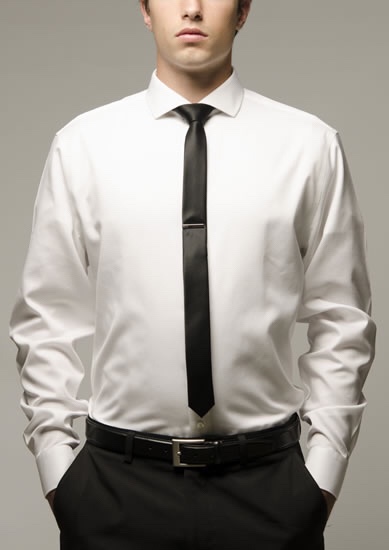 If you're an investment banker surrounded by senior executives or regularly meet with the GM, then it might come off as a bit much. But if you're a people-person who spends a lot of time dealing with clientele, like an HR exec, then a skinny tie could work a charm, especially since this style of wearing a tie works very well with the semi-casual, upbeat professional look, and looks great with a pair of jeans.
Bowtie
The bowtie is made of fun and contentment, and brings on a positive mindset with its classical but also just as quirky looks. It breaks the ice for people who are obliged to wear a tie to work everyday, because showing up in a bowtie every once in a while will mix it up just a little.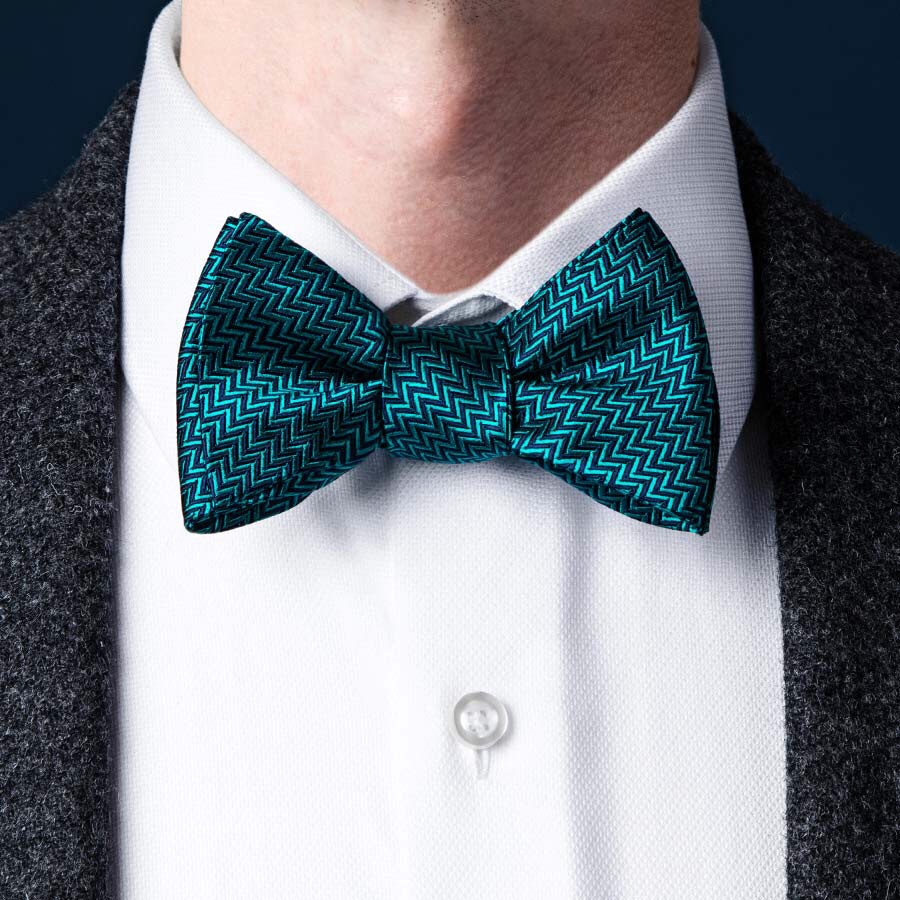 A bowtie also means taking the classical look to the hilt for when you really want to impress, and is highly recommended for those very formal events, so it works both ways.
The beauty in a bowtie is that it can be used in semi-casual functions but also works as a prime choice for highly formal events too, so is widely applicable for men's fashion trends.
Follow the steps in the below image for the basic one, two, threes of how to tie a bowtie…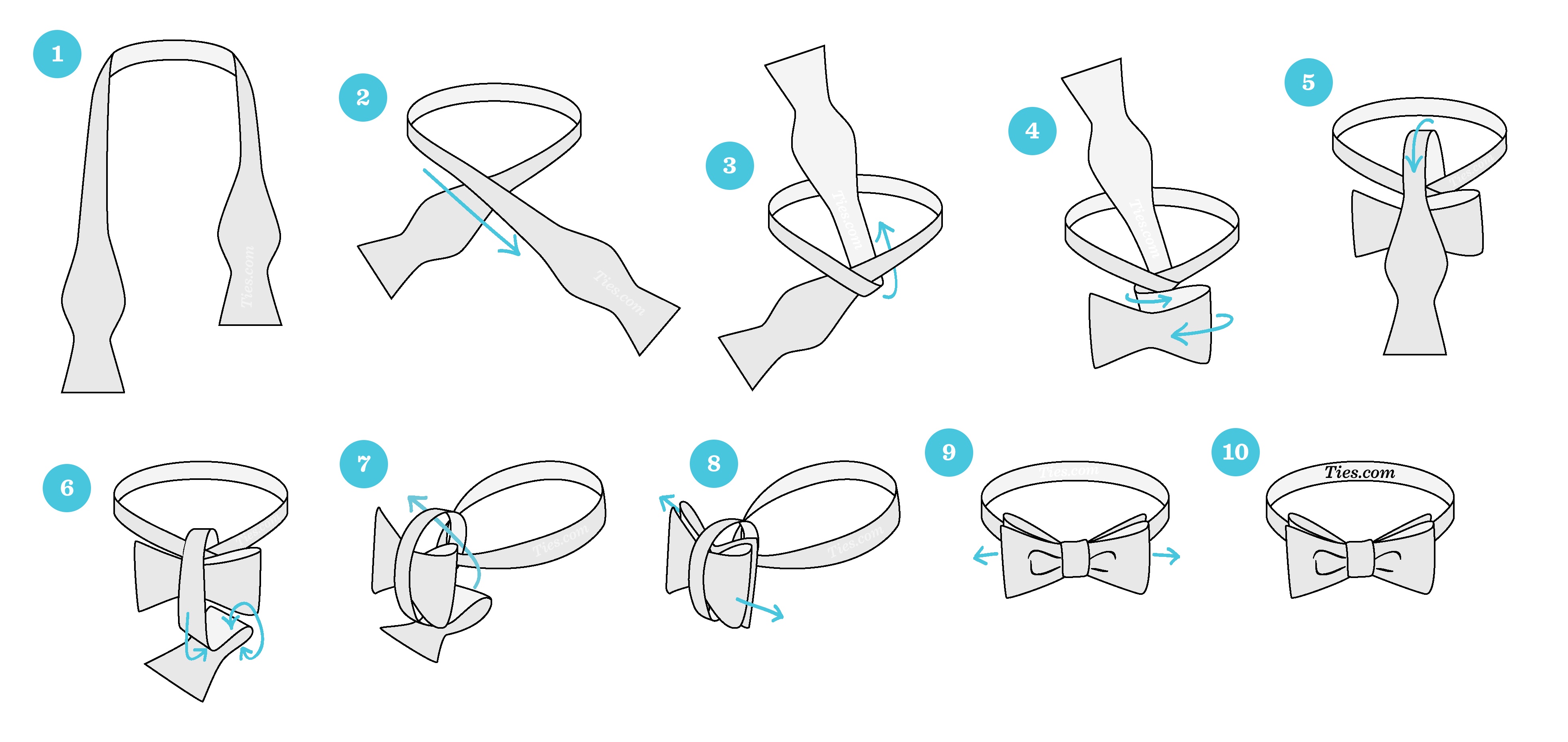 Cravat
The cravat is worn as a neckband and dates back to the 17th Century, when the style was adopted by the French. The name was actually first used to describe a seventeenth-century militia unit known as the Croats, who set the trend of wearing cravats during that time and era.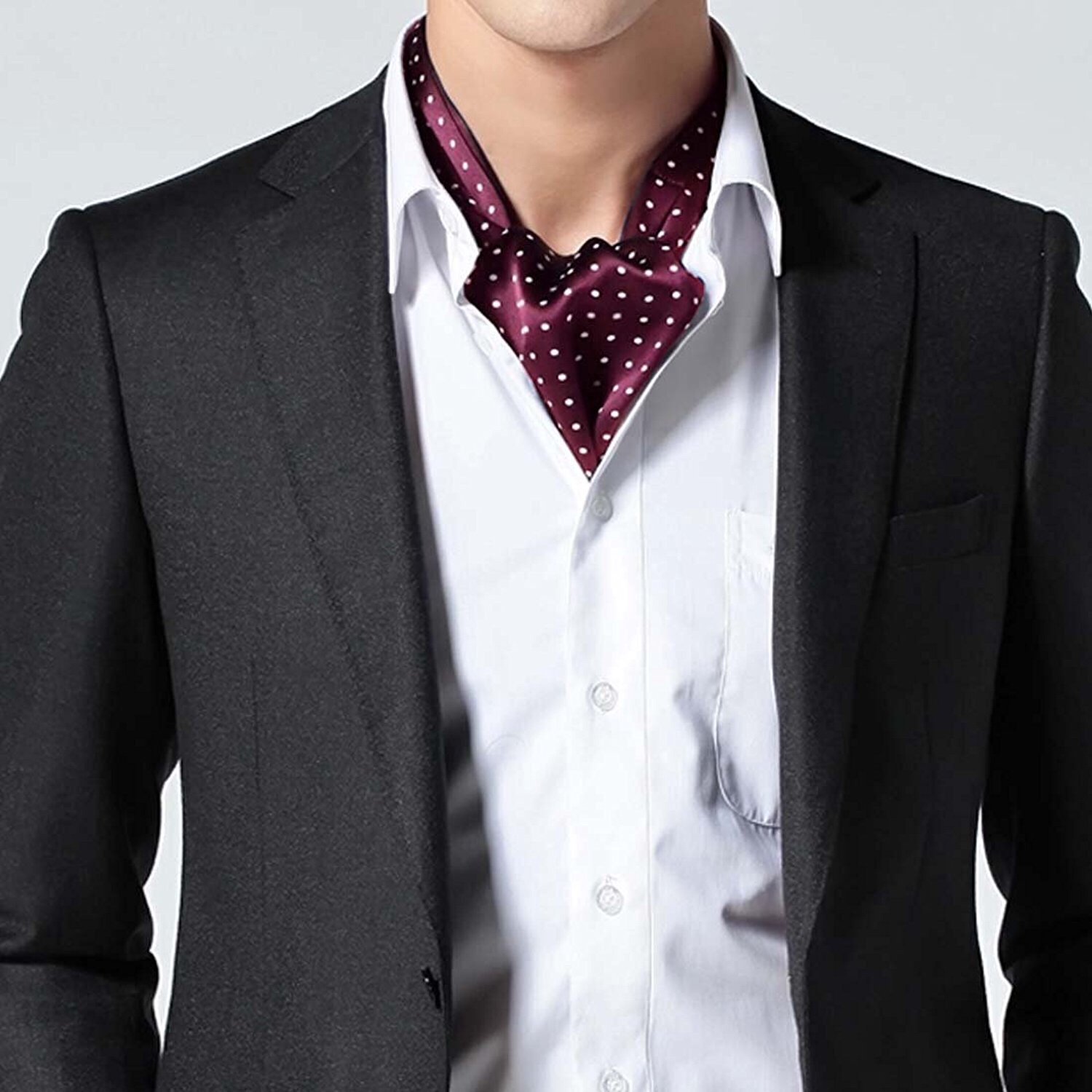 Today, the cravat comprises a long neckcloth made of a short, wide strip of fabric that fastens around the neck and is designed to be tucked inside an open-necked shirt. It is the origin of the modern tailored necktie/bow tie, and lends a spirit of antiquity to your image.
Fashion is an open book, that is always re-writing itself. But there are basic parameters to go by.
Learning the basic types and styles of how to tie a tie is a milestone in the life and times of any growing man. It serves as solid evidence that a person has graduated from his prepubescent school years, and is well on his way to being established in the real world. But even if your fingers have figured out how to tie the knot, the other side of the equation, for when it comes to dressing yourself up, is a question of knowing how zone in on the right tie at hand.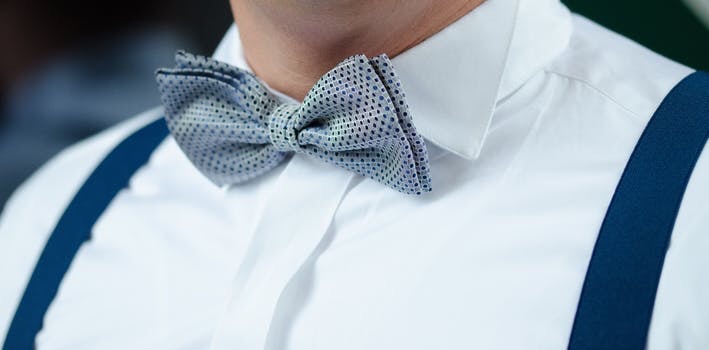 Whether you're going for a once-in-a-lifetime interview, a hot date with your wife to be or your own graduation, you'll always have to have a decent tie within reach. It's the basic rule of being a gentleman, and in a word, what spells out being classy.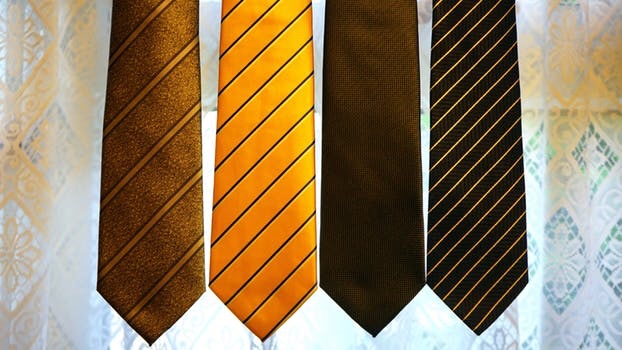 Adorning a tie will always add even more pizzazz to your look by taking the classiness up just a few notches.
We hope this blog post does its part to spiff up your gentlemanly skills.
For more products of this caliber, please visit Beirut Shopping, your go-to portal for an assortment of ties, fashionable items and so much more.