Make the summer hotter with some beautiful picks for swimwear
Whether a two-piece, a halter, a bandeau or a tankini, or even just dainty one-piece, there's always something to put on to make the summer a tad bit hotter. Whether man or woman, You'll be good thinking to be taking your pick now as beaches across the country are officially open for business again. But if you're having a hard time zoning in on what to choose, we've rounded up some select choices so you can put less on, but bring more out. Here are some awesome articles of swimwear to add to the summer fun.
The below items are on our clearance list, with only 1 piece available in stock. Get them while they're hot!
This imported monokini is a perfect show of floral details, for when it comes to exhibiting your beauty. It has an elastic material which dries up very quickly. Made with cushioning materials, there are soft and removable paddings for added comfort, with an adjustable cross lace-up which runs along the length of the lower back. The top is triangular with medium bottom coverage, measuring at 5'74 in terms of height, with a 35.43" bust, a waist that measures at 23.62" and hip length measuring at 35.43".

High cut, with a low back, this one piece from Dixperfect is a great piece to put on if you're looking for a slightly conservative but equally attractive look. It's made of a fabric which is gentle to the skin to avoid rashes, and has a low front neckline, a low back cut with double lining for extra comfort. There are pads in this item, and it's designed in a way that brings out the full beauty of your legs and hips while also accentuating your waist line. While it's designed as a piece of swimwear, it'll do just as well to be worn to the gym or used as a bodysuit, to be paired up with jeans or even on an outing if combined with a skirt.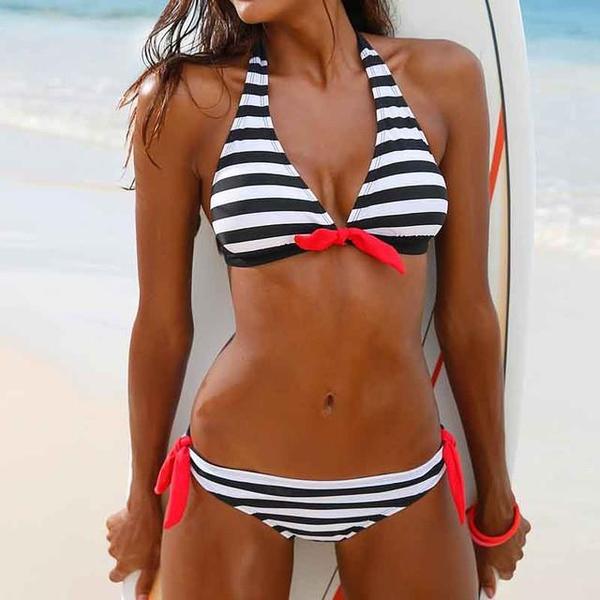 If you've done your homework and clocked in your gym time ahead of time in preparation for the summer, then this hot Brazilian styled bikini will do its part to show off your toned and chiseled body as the summer sun beams down. There is a variety of sizes to choose from, going from S, M, L and XL, with two patterns available: solid and striped. It also employs an underwire support type and is made from Spandex and Nylon, with pads included, and has a low waist cut.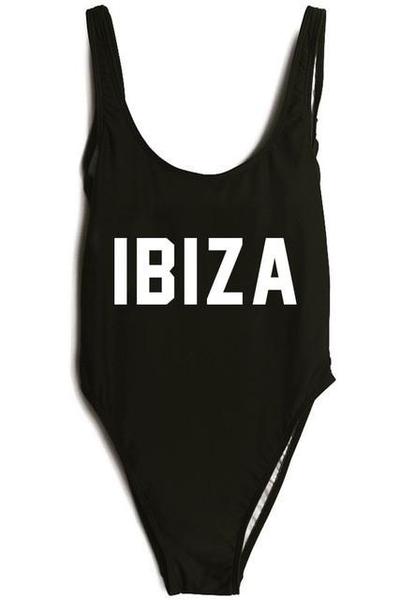 As far as one-pieces go, this piece is a flattering item that has a befitting style that can suit smaller than usual dimensions. It has a flowing letter pattern design with the word Ibiza across its front, and it's composed of polyester. An ideal choice if you're the sporty type, it's elastic and bends with your motions so that you can look the look and also maintain comfort. With the word Ibiza emblazoned across your front, you'll definitely be bringing on the right kind of attention your way, in a piece of swimwear that has a Californian spirit to it. There are 4 colors to choose from: purple, blue, black and orange, to match alternating moods.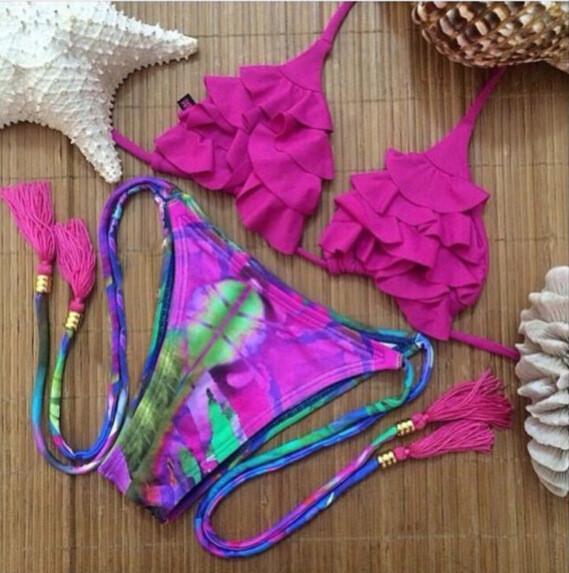 Using a wire-free support type, this beautiful bikini set from Melphieer will keep you well spirited under a golden sun. It has a low waist-cut and a crochet bikini design. With a Brazilian flair, it's also meshed together using a combination of lycra, spandex, and nylon as well as cotton and polyester, putting into effect a solid pattern type. This bikini set will keep the summer heat on. There is a variety of colors as well, including black and white, as well as pink, both in small sizes.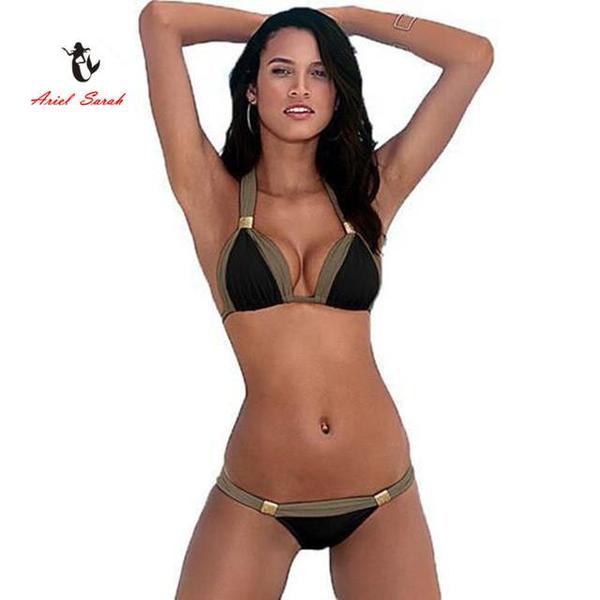 As far as bikini sets go, this one has you covered, but also out in the open. If you're looking to dress up by dressing down then you've struck gold with a bikini that is made of sexy, with black and olive green with gold detail. It uses a wire-free support type, and is made of polyester and terylene, as designed by Ariel Sarah. Padding is included, and colors available are white, deep blue, blue, pink and gray. Ideal for those types that enjoy lounging on a beach front, it could also do its part to be worn to a party, if not for casual everyday use, and obviously does its part for sunbathing with style.
…looking for men's wear? Here are some awesome picks…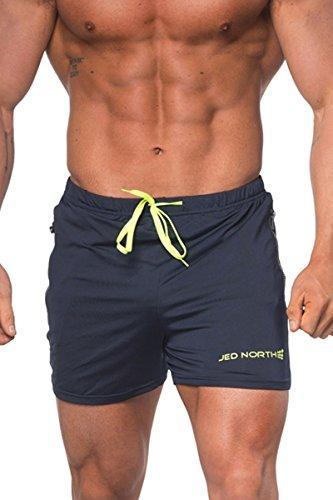 Who said workout gear shouldn't be quality clothing? Jed North has kept its momentum in the fashion industry with a long streak of releases that are made with top-notch materials. Its high-quality designs not only ensure that you have a perfect fit, but with full-on comfort, whether at the gym or hitting the beach. These shorts joggers are fully accommodating to give you perfect comfort without worrying about getting a tear even when you're in the midst of an intense workout. It has a drawstring that runs along the length of its waistline with openings that adjust to your body type to give you the perfect fit. It's made of 90 % polyester and 10 % spandex. A slim fit gives space for a wide range of movements, making it a perfect choice if you're doing your cardio, bench presses or lifting weights.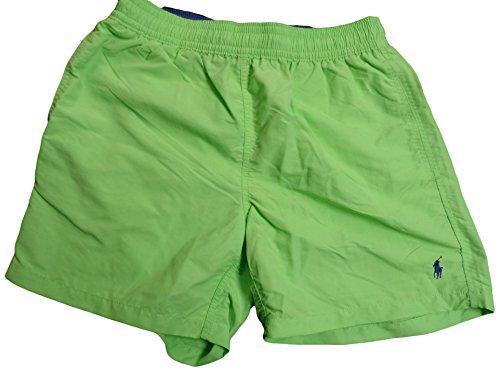 From Ralph Lauren, you'll be investing in true quality with this fashionable item. It's composed 100 % of nylon with the interior brief made 100 % of polyester. It's elastic at the waist-line and there's an internal drawstring, going with the standard design of swimming trunks, but its quality puts it in a league of its own. There are side-on seam pockets and a velcro closure on its back right side, with added support on its interior.

Beach bags are a dime a dozen, but this one in specific stands out with its oceanic design. It's especially light to carry so you can swing it across your shoulder, with accommodating cotton straps that make it feel like you practically aren't carrying anything. It also has a strong zipper closure, and is made of a sturdy canvas material that holds its shape, so you can look styling while also ensuring you have enough space to carry everything you need for your beach adventure.

Made from 100 % cotton, and machine-washable too, this Lacoste bag keeps it real with a standard Lacoste design. Measuring at 36" x 72", it comes in blue and is an imported piece, including mod designs done with the beach-goer in mind. It pays to know that French tennis champion Rene Lacoste, the visionary behind the brand name, drew his inspiration for quality wear based on his own personal desires while on the tennis court.

Who needs summer beach umbrellas when you've got a summer hat on? With a circumference measuring at 57 cm, you can keep the shade with you wherever you go. It has one size that fits all so you won't have to fret about it suiting your head type. It's made 100 % of paper and is designed so it can be crushed and packed if you're strapped for space in your beach bag. There's an adjustable drawstring as well, so you can modify how it sits on your head, assuming you want to get the most out of a breezy day. There's also a CC emblem printed on its side, and it has an internal sweatband to ensure your head stays cool even when the sun is beating down.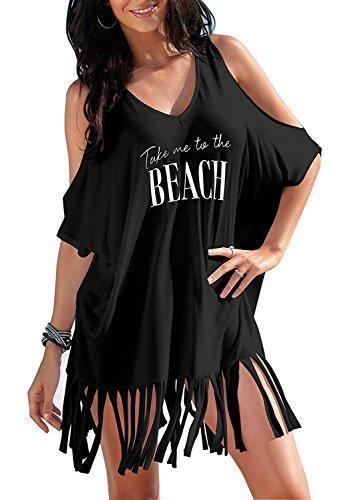 This is the perfect piece, if you're looking for swimwear that will bring out the fashionista in you, without overdoing it. Ideal for soaking in the sun, it's composed of cotton, with one size that fits all. The bust measures at 52.7", with dimensions measuring at 28.7" x 30.3". A beautiful bikini cover up to keep the spirits soaring when you're in vacation mode, it has a v neck design and is lightweight and comfortable to put on. You'll feel like there's nothing on while also rocking a hot image at the beach, but it also works as an item to wear for when it's bedtime, by keeping it together while also letting you fall apart.
We hope this round-up brings on the season's fun, next time you're writing up a short list of awesome shopping items to make the summer a hot one.
All items mentioned are available at the click of a button from Beirut Shopping, Lebanon's most preferred online retailer for all things swimwear and much more.