Fast forward: fine-picks of skater gear
Cut out for making long distances in the wind, this skateboard is an extreme sports lover's must-have. The 7 layer Canadian Maple skateboard has a very resilient build while also doing its part to add to your skater image. It has a high-density Emery surface which ensures a perfect grip and no slip, which is also waterproof to make skating in the rain all the more dramatic of an experience.
The Rockbirds 31" pro skateboard can handle a maximum weight of 300 kg and it comes pre-assembled too, to save you the hassle. The wheels are composed of high-grade quality materials that ensure reliable impact resistance and there's a skateboard wrench that comes with the package, throw in a funky skateboard bag too.

With a hefty price tag that makes it an investment you'd have to carefully consider, this electric skateboard is a trophy. A worthy addition to your collection, whether experienced skater or beginner at the urban sport, you can make your swerves with a vengeance and cover wide ranges, while relying on an electric motor and its awesome regenerative braking system. With a range which you can toggle, choose between a travel-friendly standard mode which nets you up to 6 miles of range, or the extended battery mode which gives you double the power at 12 miles of range if you're on a longer commute.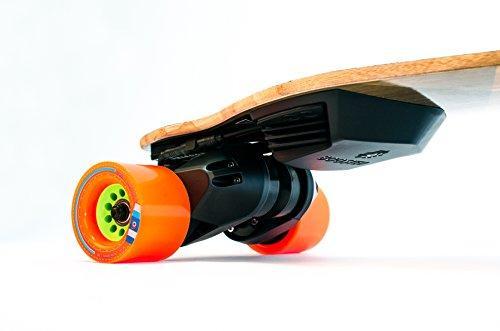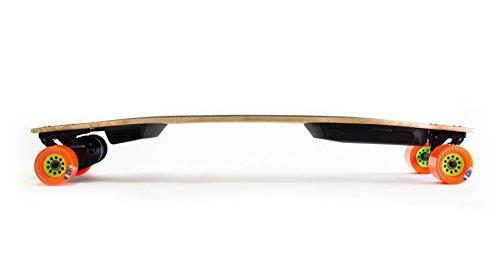 You can make the distance and climb up hills, and be assured that you can pace your way downhill while relying on the booster's braking system. The booster skateboard is powered at 2000 watts and has extra-traction grip tape, and a top speed of 35 km/h.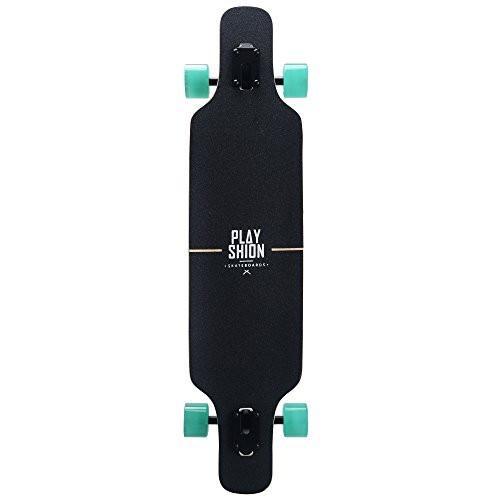 PLAYSHION FREERIDE FREESTYLE DROP THROUGH LONGBOARD SKATEBOARD
Measuring at 39" long x 9.1" wide, this skateboard has an awesome heat transfer graphic meshed into its brand design. Minimal in its appearance, it'll take you on a pleasure cruise and comes fully assembled right out of the package. Its wheels measure at 70mm in diameter, and 50 mm in width, with 7-inch aluminum trucks, and bearings that come with oil already inclusive as well. It can handle up to 250 pounds or the equivalent of about 110 kilograms, and is recommended for children and beginner skaters but won't disappoint either if you're well versed in skater culture. Also a good choice if you aren't out to pull stunts but opting for a freeride longboard. It can accommodate virtually any shoe size. So if you're one to get your kicks by the occasional trick, but are more prone to longboarding your way through the city freestyle, then this is an ideal choice.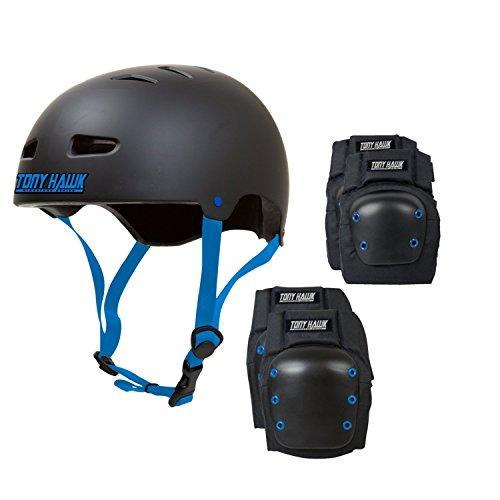 TONY HAWK SKATEBOARD PROTECTION PACK
Your safety comes first. And staying padded up is an absolute must, if you're still trying your hand at skating or if you've got ten years in the sport. This helmet elbow/knee/pad combo will give you the double assurance that nobody gets hurt, however much fun you're having. And not just any helmet, this is a helmet that was dreamed up by the legendary skater Tony Hawk himself. It's got genius product design whereby its super light material makes it the lightest product of its kind on the market, so much so that you'll hardly know it's been fastened on, while also giving you full-on protection and durability. There are multiple vents included with an inner air channel which is designed to allow you to maintain your composure with ultimate cooling, by admitting air through the helmet so your brow area can breathe. There's also extra padding for a perfectly comfortable fit, giving you the wiggle room to mix and match the pad thickness according to your head's size and shape, with velcro straps, hard plastic caps and street-style pads included too.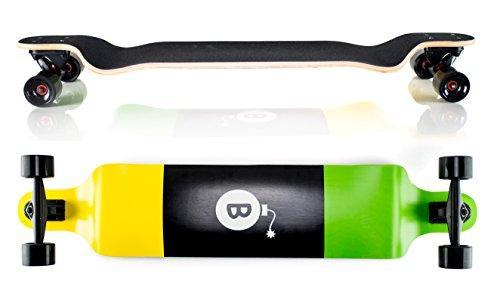 THE BOMB BOARD 41″ DOUBLE DROP LONGBOARD
If you're one to cut through human traffic by hanging awesome swerves on sidewalks, then you'll want to cop this skateboard. The ideal companion for sidewalk surfing, this longboard might look intimidating but it's actually designed with the beginner in mind, but will also do just as well for an intermediate-level skater. It comes ready to go so you won't have to worry about assembling it yourself, straight out of the box, and it sources its inspiration from 1960s Hawaiian surfing culture that lends a tropical gleam to the experience. But not your conventional skateboard, this item is a mesh all extreme sports worlds, fusing elements from surfing, snowboarding and skating into one wholesome experience.
It has a double-drop design which assures you stay flying forward on a steady trajectory with the ultimate control all throughout. Its drop-down deck is designed to lower the center of gravity on your foot platform, to hike up the stability factor, while also upping your game when it comes to carving. Its got a 9 layer sticky grip maple deck to maintain full-on heel and toe control, with 70mm high rebound polyurethane wheels and 7-inch aluminum trucks that ensure the smoothest ride. You also have the choice between awesome color combinations, with the freedom theme comprised of red, white and blue, as well as the reggae theme with green, black and yellow elements.
Skating is a hipster's sport, but you can't fake the image without warranting it with the actual experience and of course gear. So if you're looking to try your hand, or feet, at the urban sport, you might not become Tony Hawk overnight, but the fun will never cease with these fine picks.
All of the above can be found at Beirut Shopping, Lebanon's number one online retailer.