Enjoy Your Weekend Ride: Invest in These Motorbike Accessories
Are you off for a weekend motorbike ride with your buddies? Riding a top performing motorcycle could give you a sense of thrill as your engine's roar with such power on the road. However, motor racing bikes can expose you to greater danger as the temptation to go beyond the limit is high. A motorcycle rider regardless of a professional or beginner can reduce the incidents of road related accidents by investing in the following motorbike accessories.
1STORM MOTORCYCLE BIKE Full Face Helmet Mechanic Skull
Every motorbike rider must wear a helmet for protection. One of the highly recommended helmets worn by riders is a full face helmet like the 1STORM MOTORCYCLE BIKE Full Face Helmet Mechanic Skull. This helmet is extremely light, durable and made for quality thermoplastic alloy shell. Its best features include 3-level ventilation control and 5-position ventilation channel, adequate cushioning and glossy finish. The Hemet Mechanic Skull interior is removable and washable.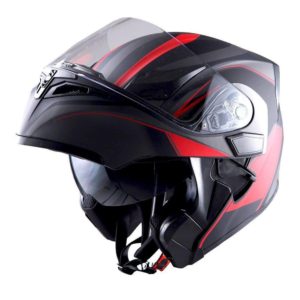 1STORM MOTORCYCLE Modular Full Face Helmet Flip up Dual Visor Sun Shield
Another style of helmet that other riders prefer wearing while on a weekend ride is the 1STORM MOTORCYCLE Modular Full Face Helmet with flip up and dual visor sun shield. This biker's headgear is designed with inner smoke lens and outer clear shield, perfect during sunny weather conditions. The Full Face Helmet Flip up Dual Visor is made from lightweight aerodynamic thermoplastic alloy shell assuring biker of comfort all throughout a riding activity. Similar to the Full Face Helmet Mechanic Skull this helmet has a gloss finish and washable interior padding.

Do you want to look cool and visible while having a blast ride? Well, why not buy the popular helmet horn decoration and mount it on your helmet. I'm sure you will get the attention of other bikers as well as onlookers. The helmet horn decoration is made from durable rubber with TPU silicone sucker. It's easy to mount on your helmet and remove. The helmet horn decoration is suitable for glossy finish helmets.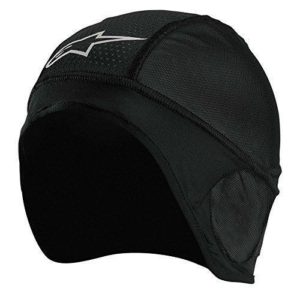 All bikers wear an inner cap to prevent strong wind or moisture getting along the way as they carry on with the trails and perform motorcycle stunts. If you are on the lookout for cap suggestions the Alpinestars Skull Cap is the top pick. Why? It's made from breathable material, fit nicely on the head of the rider and comfortable even when worn under the helmet.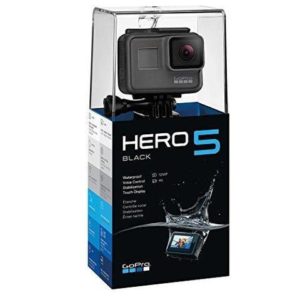 Motorcycle riders want to capture every stunt they make. In fact, both professionals and newbies invest money on a powerful sports camera like the GoPro5. This miniature camera can film everything that a motorbike rider would love including angles that they can show off with friends and fellow bikers. Apart from capturing those special moments in the lives of motorbike riders the GoPro 5 can also serve as proof in incidents of road rage. It will be very useful in detecting who is to blame and liable for damages in case a rider has to file a police report on an insurance claim.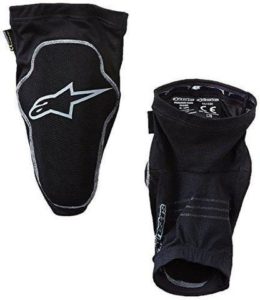 Alpinestars Paragon Knee Guard
Bumpy trails can be slippery and lead to accidental falls. If you want to prevent your knees from getting badly injured after a bad fall better wear the Alpinestars Paragon Knee Guard. These knee accessories are CE-certified protector, giving riders full protection against the sudden impact of a slip or fall.
Motorcycle riders must be fully geared before going for a bike ride. The above motorcycle accessories are just some of them that could protect any rider from getting seriously injured. If you want to know more about the mentioned accessories do more research and don't delay making a wise investment.