Dog Essentials for the Summer
With winter being over and the skies clearing up, everyone's looking forward to enjoying the  outdoors. Most importantly, your furry best friend is very excited to do so! All dog owners know how guilty we can feel for skipping morning walks because we're too lazy, it's too rainy outside, or how "bathroom" walks are shorter and less frequent. However now that they have spent a fair amount of time indoors with you during the winter, it's time to enjoy some outdoor activities with your dog!
Before considering where to go, you first need to make sure that your pet stays safe, healthy and approachable. I think we all know the struggle of car rides with dogs, especially when it comes to windows. How can we open it enough to let our dogs enjoy the wind but not jump out whenever there's a cat in sight? This car's seat belt, compatible with most vehicles, will have your pet buckled up so you can rest assured that open windows are no longer troublesome.
Another handy product is this retractable dog leash which comes with a dog waste bag dispenser, perfect to prevent indecent situations.
If you enjoy giving your pet a shower then this Synergy Labs Veterinary formula medicated shampoo will keep its fur coat hydrated and infection free, very useful for dogs that spend a lot of time outside as they're more likely to catch on to infections.
If you're planning to spend a lot of time out in the sun with your dog then watch out for its nose and paws. Extreme weathers and hot surfaces like concrete can be tough on delicate paws so you might need to invest in a dog balm. This Ruff Relief Balm for Dogs moisturizes & protects your pets nose & paws.
We've found a couple of places you can visit with your pet where you can enjoy playtime and meet other people and their pets. The first park in Lebanon to open for dogs is Dog Palace Lebanon in Deïr Mâr Roukôz, Mont-Liban, which offers 7 park zones for dogs based on their size and character. Most importantly they're also open on Sundays and offer you the option to have your own barbecue or order food from their delivery menu. A cafe bar is also available if you're looking to enjoy a drink.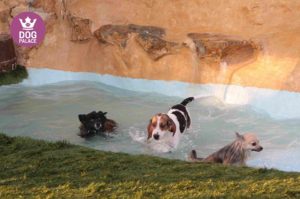 Such places are a great way to meet other dog lovers and help your furry friend find a partner or playmate. You can consider the Petrodex Enzymatic Toothpaste (poultry flavor) and Finger Toothbrush Set below to keep your dogs mouth kissable clean!
Another pet friendly place in Lebanon is Colonel brewery in Batroun, where you can go to relax by the beach or enjoy a walk by the shore. Do you know any dog friendly places to visit around you? Please do share in the comments below
Make sure to head over to Beirut Shopping – Dog Supplies to browse a wide selection of products for your pet!